Contemporary African Diaspora Fine Art 2012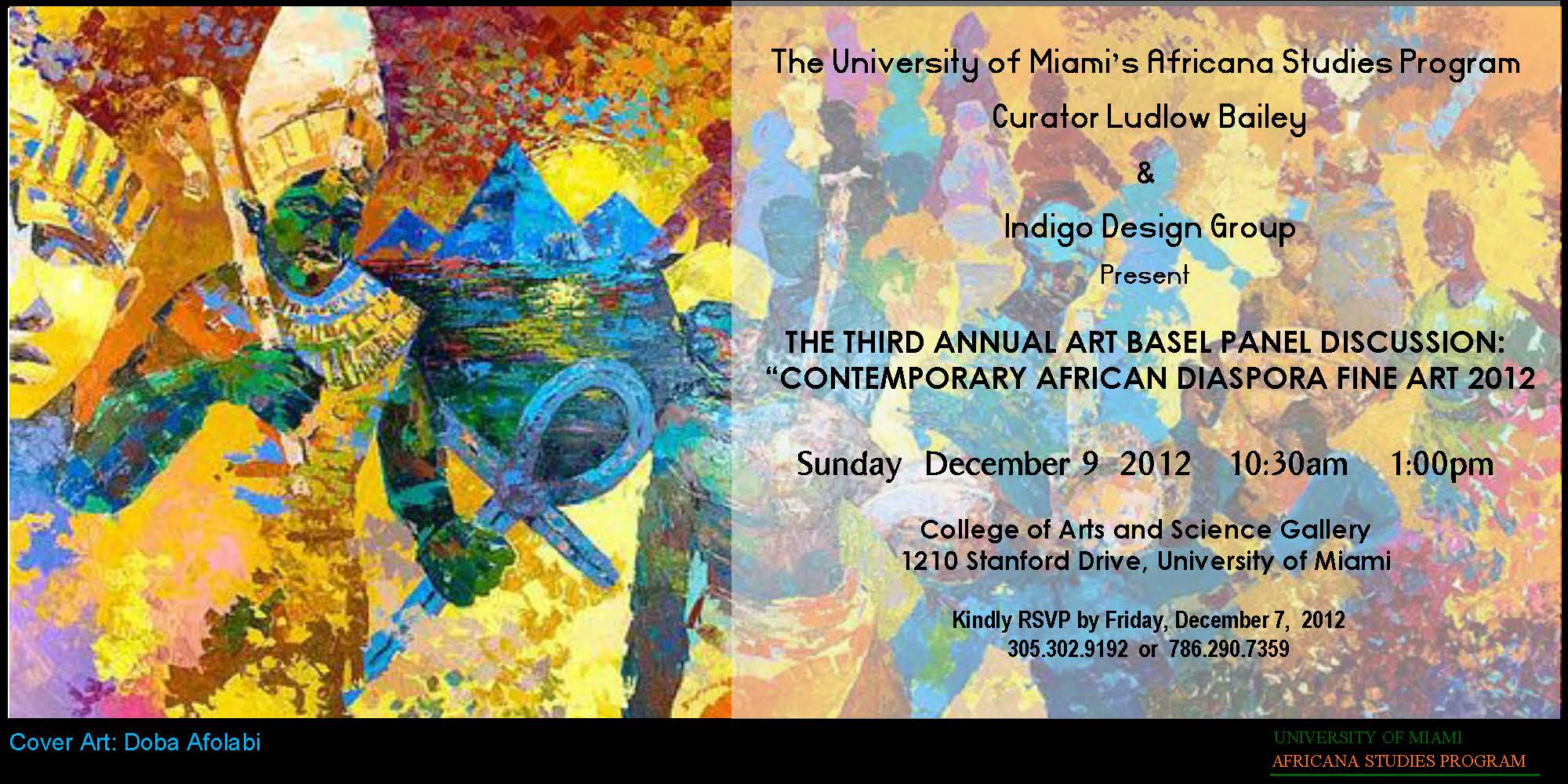 The Third Annual Art Basel Panel Discussion on Contemporary African Diaspora Art at the University of Miami continues the tradition during the Art Basel season of staging a lively presentation of current issues involving the production, distribution and promotion of contemporary art by artists of African Descent globally.

The Africana Studies Program in conjunction with the Department of Art and Art History, at the University of Miami, has made it a priority to create an active and global forum for the presentation and discussion of African Diaspora Fine Art. The Africana Studies Program at the University of Miami, under the leadership of Professor Edmund Abaka, has taken the lead initiative in the South Florida academic community in consistently exhibiting African Diaspora Art and over the last decade has organized several seminars and workshops on art of the African Diaspora.

This year's Panel will include:
 Dr. Tuliza Fleming, curator of the visual art galleries and collections at the forthcoming National Museum of African American History and Culture (a division of the Smithsonian Institution). She will give a brief overview of the curatorial philosophy of the Museum entitled, "Transcending Ethnic Notions: The Visual Arts Gallery at the National Museum of African American History and Culture."   

Julie Walker is a journalist and cultural critic. She covers Art Basel for The Root. Com

Laurence Choko is a Paris based Gallerist.  She focuses on the art of the African Diaspora. Two years ago, she presented an exhibition during Art Basel in the Design District that featured the work of Afro-Cuban Photographer, Rene Pena, Afro-Cuban painter, Mendive and African American artist, Barbara Chase Riboud.

Juanita Hardy is President of the Millennium Arts Salon, a non-profit based in Washington D.C that focuses on advancing cultural literacy through its arts and cultural programs. Juanita has a passion for art and facilitating cross-cultural connections. She is Co-Founder and Executive Director of Millennium Arts Salon. She serves on several nonprofit art boards, including the University of Maryland University College Art Advisory Board, Brandywine Workshop in Philadelphia, The Asian American Cultural Center in New York City, and Artrain, Inc (from 2004-2010) based in Ann Arbor, Michigan. Juanita has been an avid collector of fine art since 1985 and leads a global training and management consulting firm, which she established in 2006 after retiring from a 31 year career with IBM.

Frederick John Eversley is an African-American sculptor based in Los Angeles. He is currently a featured artist in MOMA PS1's, "Now Dig this" exhibition in New York. His art is in the permanent collection of 35 museums (including the Whitney and the Guggenheim).

Ludlow Bailey (Panel Moderator) is a St. Thomas, USVI based Curator and International Art Broker. He is passionate about global African Diaspora Art Culture. He has attended all previous ten Art Basel shows (including various shows in Basel, Switzerland) and has curated several African Diaspora shows in Europe, the United States and the Caribbean.  He is Managing Director of Asmar Fine Art.(www.asmarfineart.com)

Dr. Edmund Abaka is Director of the Africana Studies Program at the University of Miami. He has a very keen interest in the African Diaspora community in Miami. He is also an historian and a photographer. His most recent photographic exhibit, "House of Slaves", is currently on view until December 31, 2012 at the Old Dilliard Museum in Broward County.
 DISCUSSION TOPICS:
African Diaspora Art representation at Art Basel Miami Beach

Art  Africa  2012

African Diaspora Art Culture in the Caribbean, London, New York, Miami and Havana.

The New Black Aesthetic.

The National Museum of African American History and Culture

Global Caribbean 1V

"Now Dig  this."